Dear So and So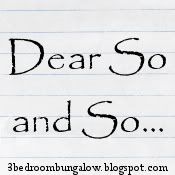 Can you remember when I explained this morning that I really needed a day to relax in? Don't you remember that in the last few days, bad news has hit in a big way. One half or full day to chill in and I could have pitched in and got jobs done with enthusiasm.
In a sleep-deprived and worried state, tackling things is not always easy. I think that makes me human not bad. This is where we differ.
So instead of doing my own thing today, I have had to work to your schedule doing housework that you say needs doing which I think could have waited. Not for ever, just till tomorrow.
In all this, nobody acknowledges that I worked for 4 hours when I got that telephone call saying you and Dad were returning here from holiday unexpectedly to make sure everything was nice. Nobody appears to see the deep worries that I have had and still have about Dad's health. Nobody has seen that for the last week or so I have had children off sick from school.
I am clearly not putting enough effort in.
Absolutely! I spend my life having facials and going to designer outlet stores. I have an army of helpers. Regular blog readers will know this.
Finally, you threaten to upset our current living arrangements totally resulting in insecurity and more worry not so much for me as for my children who you purport to care about.
Personally, I think it is time the worm turned.
An inadequate houseperson
Dear So and So
I made a mistake, a bad one. A drunken and negative tweet. I have apologised over and over to no avail. There really is nothing else I can do or if I can let me know.
Someone who should not go on Twitter in drink
Dear So and So
I went to Cambridge. It does not make me better or worse than anyone else. However, I cannot edit it out of my history. You know what, I actually don't want to. It was one of the most brilliant times in my life.
From Me
Dear So and So
Thanks for offering a glimmer of light in a really tough week. The future's bright and the worm is for turning.
The Real Me